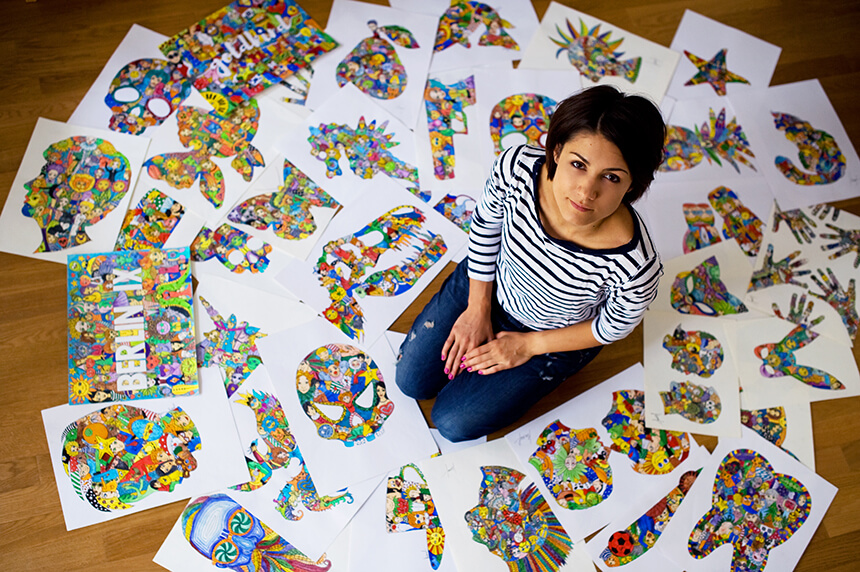 Born in 1983 in Moscow, Elena Nikiforova always searched for new opportunities outside of her native surroundings. In 2005 she graduated from the Moscow State University of Foreign Languages, and for a while worked as an interpreter and journalist.
However, following her inner search, in 2010 Elena moved to Berlin with her husband and daughter, where she would eventually discover painting as her passion.
As a child Elena enjoyed drawing und painting, but never pursued it seriously. Only in Berlin she started taking professional painting lessons and made it her full-time commitment. She learned the classical painting, portrait drawing, painting with water colours, oil and acrylic. Eventually, in 2014 Elena emerged with her unique style which you can now see on this website.
Each picture is a group of small figures inserted in an outline of a fish, fruit, man profile, or hand. You can gaze at the pictures for a long time and discover many different little men and funny animals. Each figure is unique and different.
Many people ask about the meaning of Elena's pictures, and try to find a hidden sense. The artist answers that her pictures are caricatures and cartoons of the World we live in. You can find a lot of different characters inside the contours. Someone may recognise his own character or a character of a friend. Regardless, most of the characters are funny and positive. Good nature of the colourful Elena's paintings makes them suitable for either a living room, kitchen, or child's bedroom. They are created to make you smile.
The paintings are created with water colours and a black liner. Further, they are scanned and printed on metal.
In 2015 there was the first and very successful exhibition of Elena's paintings, most of which you can see on this page. As Elena is working on her new inspirations, follow the artist to see what is coming next.